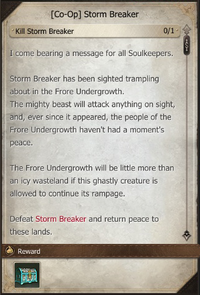 Storm Breaker is a Co-Op Monster spawning in the Grave of Titans zone in the region Snow Country.
[Co-Op] Storm Breaker (lv. 55)
If you do not have the quest and you are in the area as the creature spawns, the game will automatically offer you the quest. If the quest is not offered then it means you are too high of a level. In this case, you can still get the credit for killing the monster but no longer receive the reward.
Ad blocker interference detected!
Wikia is a free-to-use site that makes money from advertising. We have a modified experience for viewers using ad blockers

Wikia is not accessible if you've made further modifications. Remove the custom ad blocker rule(s) and the page will load as expected.