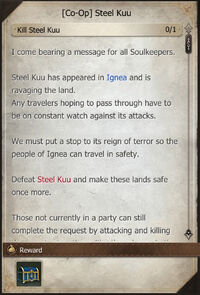 Steel Kuu is a Co-Op Monster spawning in the Ignea Plains zone in the region Ignea.
[Co-Op] Steel Kuu (lv. 20)
If you do not have the quest and you are in the area as the creature spawns, the game will automatically offer you the quest. If the quest is not offered then it means you are too high of a level. In this case, you can still get the credit for killing the monster but no longer receive the reward.