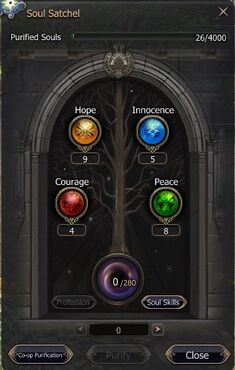 The Soul Satchel is the window players will use to purify
Chaos Souls
.This can be accessed either through the Soul icon at the bottom of the screen or by pressing (V) on the keyboard. If players are near a
Soul Sanctum
players will have the option to do a normal purify but the cost will be twice that of a co-op purification. A Co-op purification can be done anywhere in game as long as there is someone nearby willing to help. This does not require that both players be in a party. They only need to accept an invitation. 
Ad blocker interference detected!
Wikia is a free-to-use site that makes money from advertising. We have a modified experience for viewers using ad blockers

Wikia is not accessible if you've made further modifications. Remove the custom ad blocker rule(s) and the page will load as expected.