A Quest Popup is a part of the user interface.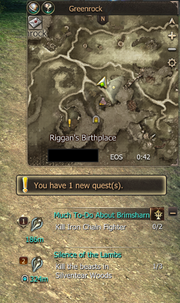 Some quests are only available by selecting a pop up on the screen that displays right above the quest list on the right. (Creature events)
Clicking on this pop up will open the regular quest dialogue box on the left hand side of the screen allowing you to accept or decline the quest.
When one of these pops, if you have your game minimized, the task bar icon for EoS will begin to blink.
Ad blocker interference detected!
Wikia is a free-to-use site that makes money from advertising. We have a modified experience for viewers using ad blockers

Wikia is not accessible if you've made further modifications. Remove the custom ad blocker rule(s) and the page will load as expected.