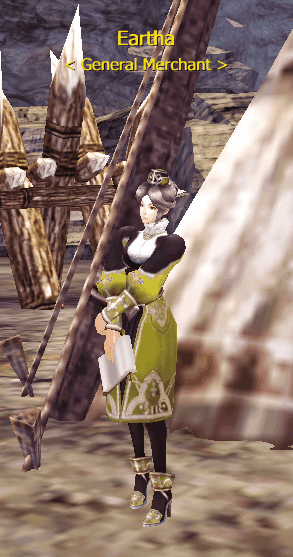 General Merchants
sell many useful items to players, and are available in every small camp and big city. You can also sell your own items to the General Merchant (if they aren't unsellable) and repair your gear.
They give you the option of two shops:
General Store
Edit
The items sold by the general merchants varies from territory to territory, but they generally include the following:
Health Item Shop (Bound)
Edit
This is a shop available at General Merchants where you can buy cheaper Healing Items. These are all Non-Tradable (Bound) items, so you can't sell them to other players. If you try to re-sell them to the NPC they will only be worth 1 silver.
Remote Merchant
Edit
You can summon a General Merchant to the place where your character is by using a Remote Merchant. These will remain at that location for 5 Minutes.
Ad blocker interference detected!
Wikia is a free-to-use site that makes money from advertising. We have a modified experience for viewers using ad blockers

Wikia is not accessible if you've made further modifications. Remove the custom ad blocker rule(s) and the page will load as expected.