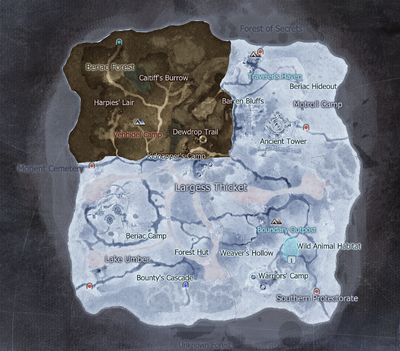 Beriac Forest is a section of the area Largess Thicket, in the region of Heliana.
All enemies (unless labeled explicitly) can spawn between level 21-23.
Area Bosses(Caitiff's Burrow)
Edit
Beriac(Caitiff's Burrow)
Edit
Baork(Kidnapper's Camp)
Edit
Harpy(harpie's Lair)
Edit
Raptor(Venhidel Camp)
Edit
Resource Nodes
Edit
Pyrewing Huayra will not always be there. It only spawns at certain times.
Ad blocker interference detected!
Wikia is a free-to-use site that makes money from advertising. We have a modified experience for viewers using ad blockers

Wikia is not accessible if you've made further modifications. Remove the custom ad blocker rule(s) and the page will load as expected.